Nursing Home Vaccinations Got Off to a Good Start, but the Next Phase Demands Attention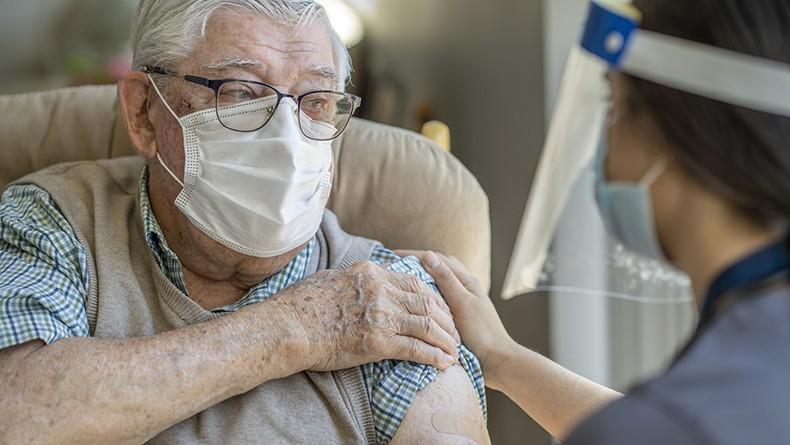 COVID-19 has left an indelible mark on nursing home staff, residents, and their families. As of April 12, over a year after officials declared a public health emergency, nursing homes and other long-term care facilities have reported more than 1.4 million cases and 182,000 deaths among residents and staff. Although the cases in these facilities represent only a small fraction (5 percent) of total national cases, deaths in those same facilities make up about one-third (33 percent) of all deaths in the United States.  

Throughout the last year, both facilities and public officials took steps to mitigate community spread in nursing homes. Among these were actions taken by the Centers for Medicare and Medicaid Services—guidance to limit visitation, waivers to grant certain flexibilities, and testing requirements for nursing home residents and staff; the administration's allocation of $5 billion to long-term care facilities to support COVID-19 responses; and several states' mobilization of National Guard troops to supplement staffing shortages in facilities.  

More recently, vaccines have become a powerful tool in reducing cases and deaths. While the deployment of vaccines in nursing homes has largely been a success thus far, facilities are far from finishing this task. They must now enter a next phase of vaccination and confront a new set of issues.

The first phase of vaccinations in nursing homes took place under the Pharmacy Partnership for Long-Term Care (LTC) Program. Before the FDA authorized the first COVID-19 vaccine, the Centers for Disease Control and Prevention (CDC) announced the Partnership, a collaboration with CVS, Walgreens and others to offer on-site vaccinations in nursing homes and other long-term care facilities. The Partnership's goal was to expedite vaccinations by working around existing immunization protocols and giving over full management of vaccine administration to the partner pharmacies.

The Partnership met this goal and had tremendous success. It enrolled more than 63,000 long-term care facilities in 49 states, and from mid-December to the end of March more than 4.8 million residents and staff received at least one vaccine dose.

Thanks in part to the vaccine rollout, the rates of COVID-19 resident cases and deaths in nursing homes have dropped dramatically, from a high of over 34,000 new cases and nearly 7,000 deaths the week of December 14­­­–20 to about 900 new cases and 600 deaths the week of March 22–28.

Although the Partnership, only a temporary program, is ending, the need for vaccinations in nursing facilities is not. To start, many current residents and staff have not received a complete dosage of the vaccine, or any at all; nearly two million staff and residents have yet to receive a second dose of vaccine and roughly half of nursing home staff remain unvaccinated. Further, nursing homes will continue to admit new residents, many of whom may not have received a vaccination. Based on previous patterns, nursing homes may admit approximately 200,000 residents each month nationwide. Finally, the high staff turnover rate in nursing homes, estimated to be more than 50 percent annually, will require vaccination opportunities for new staff hires.

As facilities enter this new, unchartered phase, each will need to determine a way to continue administering COVID-19 vaccinations. The CDC has outlined three options. Facilities can choose to:

 
Receive a vaccine from a long-term care (LTC) pharmacy that is enrolled as a COVID-19 vaccine provider in their state or territory,
Receive vaccines from a LTC pharmacy that is enrolled as a COVID-19 vaccine provider through the Federal Retail Pharmacy Program for COVID-19 Vaccination, or
Enroll directly with the state or territory as a vaccine provider.
Information about the options that states and facilities will choose is only beginning to emerge. For example, New Jersey announced that the state's LTC pharmacies will have access to vaccine supply through two group purchasing organizations.

Yet, many questions remain about what options facilities will choose and how they will operationalize these choices. As states open up vaccine eligibility to more residents, will doses for nursing homes become limited? Will some facilities, particularly smaller ones or those in rural areas, have trouble connecting with a long-term care pharmacy eligible to provide vaccines? Also, who will administer the vaccines on site? One recent report highlighted the struggles a Pennsylvania facility encountered as it tried to make a choice for this phase.

AARP is inviting greater transparency around these choices. AARP's Nursing Home COVID-19 Dashboard continues to track the virus's impact on nursing home residents and staff. AARP has encouraged caregivers to find out more about a facility's plan as one of eight questions they should ask if a loved one is in a nursing home. Also, AARP is urging officials to develop and implement a vaccination plan that continues to offer on-site vaccinations and make vaccinations in nursing homes and other long-term care facilities a priority. Everyone must work together to ensure continued access to vaccinations for nursing home residents and staff—who remain at risk for serious complications from COVID.