Three Tools to Address Today's Crisis in Nursing Homes and Shape the Future of Long-Term Services and Supports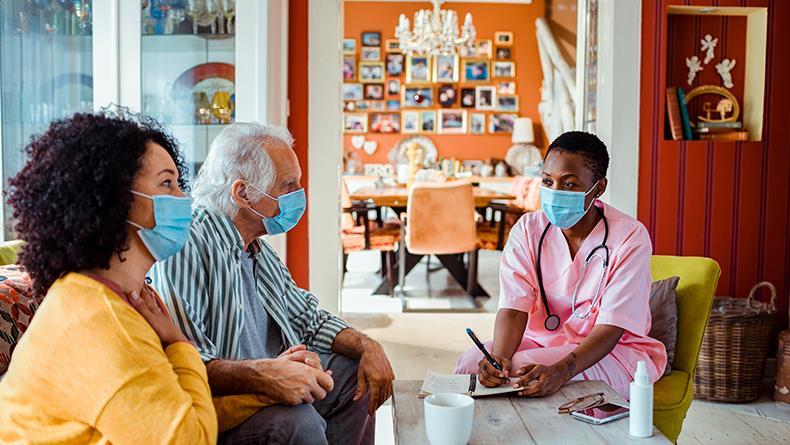 Published December 16, 2020
The news is shocking but not surprising.  Nursing home resident deaths and infections among both residents and staff are skyrocketing to record highs in most of the country, and to national levels not seen since at least May.  The COVID-19 pandemic has been devastating (291,000 deaths as of December 13th and rising rapidly), with nursing homes and other long-term care settings at the epicenter (110,000 deaths as of December 10th and also accelerating).
At the same time, states need to address their budgets in 2021 and beyond, with an eye toward transformation of long-term services and supports (LTSS).  To support states both in dealing with the crisis in nursing homes and shaping the future of LTSS, the AARP Public Policy Institute (PPI) has created and released three tools this fall: the Nursing Home COVID-19 Dashboard, the LTSS State Scorecard, and the LTSS Choices series.  These tools address the present while also helping to spark a transformed future.
First, we must deal with the crisis at hand.  In collaboration with Scripps Gerontology Center at Miami University, PPI created the Nursing Home COVID-19 Dashboard in order to track the impacts of COVID-19 on nursing homes, residents, and staff on an ongoing monthly basis.  The current situation is grim, and getting worse.  
The December Dashboard release found that COVID-19 deaths have risen dramatically in nursing homes in recent months. The resident death rate across the nation increased by two-thirds from the four-week period ending October 18 to the four-week period ending November 15, from 0.47 per 100 residents to 0.78 per 100 residents.  New resident cases doubled, from 2.8 to 5.7 per 100 residents, and new staff cases also doubled, from 2.7 to 5.4 per 100 residents.
Five states — Montana, North Dakota, South Dakota, Wisconsin, and Wyoming — had at least 2 resident deaths, 12 resident cases, and 13 staff cases per 100 residents — more than twice the national average and higher than any state in any previous four-week period going back to the beginning of June.    
Second, COVID-19 has highlighted and exposed long-standing weaknesses in the LTSS system.  There will need to be some long-term changes after the current crisis has passed to address these weaknesses.  States do not need to start from scratch in thinking about how to improve their LTSS systems.  The 2020 LTSS State Scorecard can show what's been working in each state along multiple dimensions of performance—access and affordability, choice of setting and provider, quality of life and quality of care, support for family caregivers, and effective transitions. And states can learn from each other what might work for them through Promising Practices reports on Aging and Disability Resource Centers, local initiatives to fund services, self-direction of LTSS, and more.
Finally, even more broadly than highlighting the urgency of such improvements, this pandemic has demonstrated the need to truly reimagine and transform LTSS on an even bigger scale, and in a lasting way.  To help spark ideas for immediate, intermediate, and long-term options for transformation, we launched the LTSS Choices Initiative earlier this month. This series of spotlight reports, blogs, videos, virtual convenings, and podcasts will highlight the problems and match them to the potential solutions from state, national, and international perspectives.  We seek to stimulate change through the scaling of current options and creation of new innovations that combine the four pillars of housing, workforce, services, and connections to the community.  People who need LTSS need to be supported by these pillars, and they should have more options available than one binary choice between nursing home placement and care at home from a family caregiver.
This is a pivotal time for action. We need tools to help guide us, along with the necessary commitment to change the status quo.  We welcome your ideas. Join us by contacting Susan at LTSSChoices@aarp.org.